Originally published in 2016.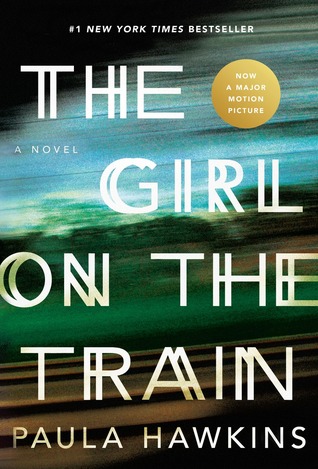 The Girl on the Train is one of the biggest recent releases of the past two years and now a major motion picture to boot. It's hard to believe this is the debut novel of Paula Hawkins since it hit almost instant fame.
The main character, Rachel, rides the same train every day while observing the lives within the homes she passes. She begins to feel as if she knows the people she is passing and creates romantic storylines for the people she sees most frequently. One day on Rachel's regular train ride, she observes an appalling scene that wrecks the imaginative story she had fabricated for so long. When Rachel goes to the police to report the scene she observed as a helpful tip for an investigation, she is left feeling as if she did not seem like a credible witness. Instead of depending on the police, Rachel inserts herself into the lives of the strangers she watched through the windows of the train, determined to solve the mystery and make herself useful. This "who-done-it" story will keep readers guessing until the very end.  Will you be on Rachel's side, or is she as crazy as everyone assumes?
From years of reading Nancy Drew stories, I have almost always been enthralled by a great mystery! I had this book on my TBR even before I started actively using Goodreads, but when I saw the movie trailer this fall I knew I needed to finally read it. Emily Blunt is one of my favorite actresses, and my husband's biggest Hollywood crush (ha!), so this movie looked like an obvious must-see for us. Books before movies though, for this bookworm! 😉
While I loved the mystery of this story, I pegged the culprit early on, which left this book slightly anti-climatic for me. The multi-perspective aspect is very interesting when all of the characters are as flawed as these were. It easily leaves the reader wondering if everyone was in on the mystery.  Just as the plot would slow down, I felt like another interesting twist would pop up! I couldn't read fast enough to get to the next revelation.
Despite Rachel's faults, I could not help rooting for her as the underdog. Paula Hawkins gave her readers a realistic look into the inner workings of women's minds, and just how difficult it can be to live amongst other females. I wanted Rachel to figure out what happened before the police, while secretly hoping she wasn't too involved, and yearning for her to get her happy ending simply because everyone was so quick to discredit her.
This is a mesmerizing story that can easily cause fiction blur with real life, and leave readers questioning the motives and thoughts of people in our reality. Is everyone hiding something? Does everyone have a secret crazy side? What would I do in Rachel's situation? I felt like I was on the edge of my train seat just like she was!
The Girl on the Train is worth your time, and a fun way to put your sleuth skills to the test. Now I cannot wait to see how the movie compares when the DVD is released in January.