One of the hardest things for me as a book blogger is reviewing an immensely popular novel because it feels like there is nothing new to be said. However, I have been asked by readers to give my thoughts on To All The Boys I've Loved Before, a book I planned on taking the easy way out with — I intended to only watch the movie and skip right over the book. Gasp – book lover blasphemy. There are so many books to read and sometimes by skipping over the popular books, I am able to bring awareness to lesser-known novels. However, after watching the movie, I was intrigued to discover where the series would go. Luckily, my friends in the book club I'm a part of chose this book as our next read.
Part of me enjoys reading a book after watching the movie adaptation because I can easily picture the characters I'm reading about. However, I often find myself struggling to remain enthused about reading in the same way, since the suspense is typically taken away, especially if the movie follows the book closely. This happened to be the case with To All the Boys I've Loved Before. Impressively, the movie does not deviate much from the text, but this left little to my imagination. It's my fault for making this faux pas!
---
BLURB:
To All the Boys I've Loved Before is the story of Lara Jean, who has never openly admitted her crushes, but instead wrote each boy a letter about how she felt, sealed it, and hid it in a box under her bed. But one day Lara Jean discovers that somehow her secret box of letters has been mailed, causing all her crushes from her past to confront her about the letters: her first kiss, the boy from summer camp, even her sister's ex-boyfriend, Josh. As she learns to deal with her past loves face to face, Lara Jean discovers that something good may come out of these letters after all.
---
I enjoyed the fuller picture of both Peter and Josh through reading, which pieced together a few questions I had while watching the movie. However, like many of us, I have to agree: movie-Peter is far superior to book-Peter. I was quite disappointed in how much of a tool Peter was in the book! I had a hard time imagining how Lara Jean could possibly stand being around him for more than a few minutes. Of course, Noah Centineo has a certain charisma that is hard to match on paper. Plus, I'm not sure any of us, no matter how Peter is described, could have imagined looks quite as good as his. At least my mind is not that impressive in conjuring attractive men. 😉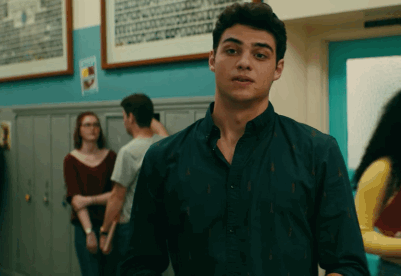 My favorite thing about both the book and movie, despite the adorable guys, is Lara Jean. She's incredibly likeable, relatable, and all-around fun to read about. She had the perfect amount of quirks to make her seem like someone readers know in real life. I truly adored her in both the book and movie. Lara Jean's relationship with her sisters is one that made me crave sisters of my own. The built-in friendship between Margot, Lara, and Kitty was downright envious! Their family dynamic was inspiring, the traditions they shared were heartwarming, and the few moments of bickering made their relationship seem less fictional. My only issue was how much of a pushover Lara Jean could be in the book. She was a world-class people pleaser and went along with everything Peter, and anyone else, for that matter, wanted. There were times I wished I could grab her by the shoulders and shake her!
Overall, this was a great four-star read for me despite loving the movie even more than the book. I think the casting truly made the movie go above and beyond. I have to say, I'm convinced if I had finished the book before watching the film like a good bibliophile, I would have loved the book more. For me, it's all about timing. Either way, both are hits worth checking out – modern classics in the making! I am eager to pick up the next book in the series before the possible movie continuation to see if flip-flopping the order affects my enjoyment. We shall see!
I'd be interested to hear which you prefer – the book or the movie? Possibly both?