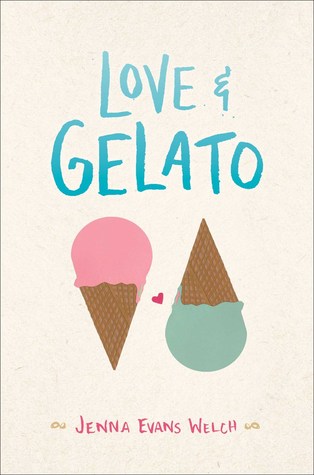 With the stress of the school year upon us, I was eager to read a cheerful and light book. Luckily, I found Love & Gelato for sale this month on Amazon Kindle for $1.99! At the same time, however, this book became available through my Overdrive app through my library. What luck!
I love books set in Europe, and I knew this would be a book perfect for my tastes at the moment. I'm so thankful for books being able to transport us to faraway locations when we have to stay with our feet firmly planted in a particular place.
Lina's life is turned completely upside down when her mother unexpectedly passes away. Her mother's dying wish was for Lina to experience Italy and get to know her father, a man she hasn't met in her sixteen years on Earth. Upset to have her life set on a completely different course, Lina is reluctant to find the joy her mother experienced in Italy almost twenty years before. However, when her mother's journal shows up in Tuscany, she can't help but be captivated by what Italy has to offer when she is allowed to see the landscape through her mother's eyes.
Love & Gelato is full of mystery, adventure, and beauty. One of the coolest aspects of this story was being able to Google the locations and sights described in the story and experience it simultaneously with Lina. It was the next best thing to being in Italy myself.
At times, it can be difficult to find YA novels to relate to as a 27-year-old mother. I'm about a decade past the YA age now (gasp!), which makes the character's problems seemingly juvenile. Luckily, that was not even remotely the case with this novel. I found the characters to be interesting and was impressed with the growth they showed. I enjoyed reading something without trashy scenes and lots of drama. This would be a book I would gladly hand to my daughter when she reaches the age of being interested in this genre. It was not full of "cheese" so to speak, but actually had plenty of depth and kept from my interest from the very first page to the end.
Another great thing about Love & Gelato was the journal! Lina reads her mother's mysterious journal about her time in Italy as a young college student. Facing many of the same moments in her own life, Lina is able to relate to her mother in a new way and feel connected to her despite her mother's absence, all while uncovering the mystery about her parent's relationship.
This story received an easy 5 stars from me, and I'm so anxious to read Love & Luck by Jenna Evans Welch next year. Her writing, pacing, and character development bred a sweet and fast-paced read that made 400 pages fly by. I highly recommend this book!