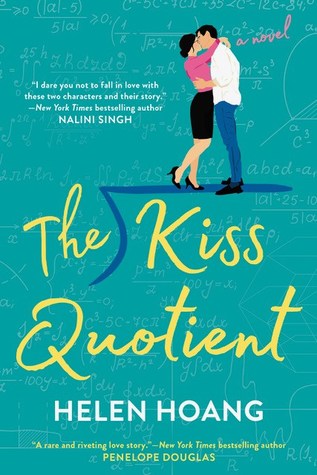 I actually picked this book up at the library months ago, when the hype first started and put it back down after thinking, "Do I really want to read a book with the word 'quotient' in it?" Dirty math words immediately turn me off, even to things I love dearly, like sweet Romance novels. Thanks to my good friend Megan at @themoodymama.reads, I decided it was time to give this book a try, though I knew nothing about it except for the title and that Megan loved it.
Going into this book without reading the blurb threw me for a loop. I did not see the storyline coming and was quite shocked as things got off to a steamy start. Truly, math was the least dirty thing about this book. I normally hate books with copious coitus as it often adds little to nothing to the storyline. However, The Kiss Quotient is in another ballpark completely – I couldn't stop reading because I couldn't help but adore the characters Helen Hoang created!
---
BLURB:
Stella Lane thinks math is the only thing that unites the universe. She comes up with algorithms to predict customer purchases–a job that has given her more money than she knows what to do with, and way less experience in the dating department than the average thirty-year-old.
It doesn't help that Stella has Asperger's and French kissing reminds her of a shark getting its teeth cleaned by pilot fish. Her conclusion: she needs lots of practice–with a professional. Which is why she hires escort Michael Phan. The Vietnamese and Swedish stunner can't afford to turn down Stella's offer, and agrees to help her check off all the boxes on her lesson plan–from foreplay to more-than-missionary position…
Before long, Stella not only learns to appreciate his kisses, but to crave all the other things he's making her feel. Soon, their no-nonsense partnership starts making a strange kind of sense. And the pattern that emerges will convince Stella that love is the best kind of logic…
---
I absolutely adored Stella and enjoyed viewing the world through the perspective of a grown woman with Asperger's (now considered a spectrum of Autism). I've experienced variants of Autism through secondary characters in numerous YA novels, but never in this personal fashion through adult eyes. In many ways, I found Stella refreshing. She wasn't the perfect heroine and yet she was perfect for me as a reader. I noticed many similarities between myself and Stella, such as the sensitivity to social situations and easily being overwhelmed by sounds or smells. Despite the difficulties she faced, she was an incredibly strong and empowered character – constantly stepping outside of her comfort zone and refusing to let her disorder cripple her. I admired her for these attributes!
I really enjoyed Michael in this story as well. For the majority of the book, I was wondering if I would end up hating him at the conclusion of the story for a secret he keeps under lock and key throughout the novel. Even so, I couldn't help but admire how sweet he was with Stella.
This was similar to the type of love story that drew me to reading in the first place many years ago and it was nice to experience that feeling again with The Kiss Quotient. I will say, as per my usual reading style, I did find myself skimming the sexual situations at the end of the book, eager to get to the parts that drove the story forward. Nonetheless, this was an enjoyable read with incredibly likable characters.
Social Media:
Facebook | Twitter | Instagram| BlogLovin'