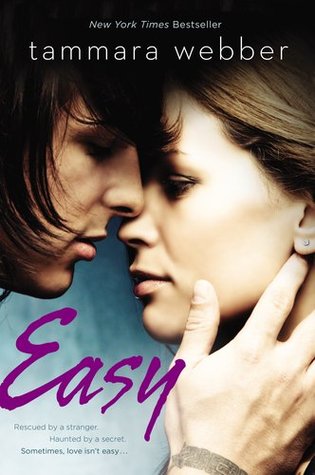 Easy by Tammara Webber has been on my list of to-reads for quite some time. Published in 2012, this is one of the love stories many readers will contribute as one of their favorites to spur their love of Romance. When I was able to meet Tammara Webber at Book Bonanza last summer, I knew I had to pick up a copy of Easy. Everyone had been raving about it to me for years. When I saw my friend, Talon at Under the Cover Blog, post about Easy last Friday, I decided to drop everything and get to reading, especially since this one was on my Beat the Backlist TBR to begin with.
---
BLURB:
Rescued by a stranger.
Haunted by a secret.
Sometimes, love isn't easy…
He watched her, but never knew her. Until thanks to a chance encounter, he became her savior…
The attraction between them was undeniable. Yet the past he'd worked so hard to overcome, and the future she'd put so much faith in, threatened to tear them apart.
Only together could they fight the pain and guilt, face the truth – and find the unexpected power of love.
A groundbreaking novel in the New Adult genre, Easy faces one girl's struggle to regain the trust she's lost, find the inner strength to fight back against an attacker, and accept the peace she finds in the arms of a secretive boy.
---
I think this book would have been on my list of favorites, had I read it when everyone else was experiencing it, as a younger reader. I certainly enjoyed the emails between the characters and the mystery this aspect added to the story, though I predicted a small twist far ahead of time. The character development in this book was one of my absolute favorite things to behold. The story began with young, naive college girls and finished with worldly and aware adults. I was impressed by the author's ability in conveying how a trauma inadvertently forces a person to grow up.
I appreciated Tammara Webber tackling the subject of injustice head-on with this novel as well. There are countless times when people weasel their way out of situations because of their money or status in life when, if only, someone was determined enough to fight back, they possibly could have changed the fates. I don't think there's anything I despise more in the world than people getting away with something they should have been punished for. With Easy, the author gives power back to her readers, making them realize how important it is to speak up and fight for what is right, even when they are terrified.
Overall, this was an enjoyable read but wasn't a knockout like I expected or hoped for. 4 stars for the subject the book tackled with power and grace.
Social Media:
Facebook | Twitter | Instagram| BlogLovin'