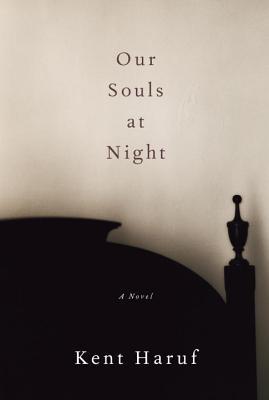 Our Souls at Night was the first book I put on my "to be read list" upon signing up for my first Goodreads Reading Challenge in 2016. Three years later, I've finished this short and sweet book in one day, thanks to my Beat the Backlist Challenge giving me the push I needed.
Little did I know when I added this book to my list, I would be reading about a fictional town based upon a place very near to where I once lived. Few people know Colorado isn't just a state of beautiful mountains and valleys. In fact, there's entirely another side to the state – the wide open plains similar to the look of Kansas. When I was first married, I lived in three small, forgotten towns in Eastern Colorado. Places where in a hundred mile (or more) radius, a community of people has been built. Multiple towns are linked together, despite the vast distance and lack of civilization between, to create one of the dearest places to my heart. Our Souls at Night is set in fictional Holt, Colorado, a town based loosely on Yuma, Colorado. Yuma just happened to be the nearest town to our final home in Eastern Colorado before venturing back to Texas in 2013. Less than 35 miles away, we made frequent trips for groceries or other necessities. One of my very best friends lives on the Plains, just a short distance away from the town today.
It's difficult to convey this area of Colorado to people who have never experienced it. It's otherworldly. Farming is the main occupation of nearly everyone who lives in these parts, it's rural, populations are minute, and the pace of life is slower than many could fathom. Upon moving to this area, people asked my husband, "Can your wife make it here?" Not many outside women are suited to the unhurried way of life this area provides, the lack of shopping opportunities, or social interaction. Little did I know, after my first rough year in what felt like Hell, this would be the ideal place for me to learn who I was and grow into the woman I am today. Which happens to be precisely why I enjoyed Our Souls at Night so incredibly much. I felt like I was sharing a secret with the author about a place very few have experienced.
---
BLURB:
A spare yet eloquent, bittersweet yet inspiring story of a man and a woman who, in advanced age, come together to wrestle with the events of their lives and their hopes for the imminent future.
In the familiar setting of Holt, Colorado, home to all of Kent Haruf's inimitable fiction, Addie Moore pays an unexpected visit to a neighbor, Louis Waters. Her husband died years ago, as did his wife, and in such a small town they naturally have known of each other for decades; in fact, Addie was quite fond of Louis's wife. His daughter lives hours away in Colorado Springs, her son even farther away in Grand Junction, and Addie and Louis have long been living alone in houses now empty of family, the nights so terribly lonely, especially with no one to talk with. 
Their brave adventures – their pleasures and their difficulties – are hugely involving and truly resonant, making Our Souls at Night the perfect final installment to this beloved writer's enduring contribution to American literature.
---
Published posthumously, Our Souls at Night is, unfortunately, the final work of author, Kent Haruf, a Colorado native and exceptional writer. This story was short enough to read in one sitting, allowing me to get completely lost in the days many experience with old age. This book explores the loneliness that comes with advanced age, after the deaths of spouses and even children. Two souls are brought together in the search for companionship in this story, and it was beautiful and touching to behold. Each night, Addie and Louis's platonic relationship brought them to a shared bed to keep each other warm during the lonely dark hours, allotting them time to reflect with another upon the lives they led and mistakes they made.
I love stories featuring elderly characters. My own old soul finds kinship in these tales and wisdom for the life I have ahead. I found this book to be especially instructive in shunning the opinions of small-minded folks in small towns and living one's life as it should be, for oneself. This is something I've always knowingly struggled with, a need to be liked, respected, a well-thought of. The idea of others thinking poorly of me has crippled me in certain areas of life and has been something I've actively been trying to reject in the past two years. It is said, when we live our lives catering to the opinions of others, we aren't living for ourselves. In the book, Addie realizes her own lifestyle for more than sixty years has been much the same and decides, in her old age, it's time to do what she wants, opinions and chatter be damned. I appreciated this viewpoint and was encouraged to continue my own pursuit of confidence in my own choices and behaviors.
Overall, I enjoyed the simplicity of this story, the small-town living, and the connection I felt to the characters and setting. In many ways, it seemed as if this story was made for me to read, which is always a nice feeling to experience as a reader. This book made me feel good, minus Addie's moron of a son, though I can't delve too deeply into his role without spoiling the story for future readers. I can't wait to check out the movie tonight on Netflix, featuring Jane Fonda and Robert Redford.
If you're looking for a touching, short read (less than 200 pages), be sure to pick up
Our Souls at Night.
Social Media:
Facebook | Twitter | Instagram| BlogLovin'