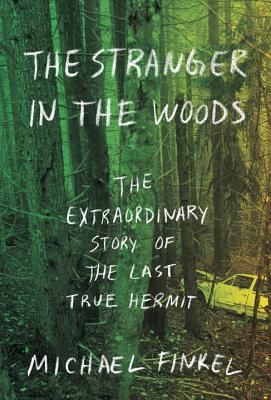 After sitting on my "holds" list from the library for months, I was finally able to listen to the audiobook of The Stranger in the Woods: The Extraordinary Story of the Last True Hermit and it was absolutely fascinating. I don't know if I've ever "read" a more interesting book before. I was completely captivated from the very beginning of Christopher Knight's story and didn't want to stop listening even after the audio ended. If you have this book sitting on your TBR, this review may contain spoilers. 
Chris decided on a whim to leave society at twenty years old. He left his family and job, took a road trip South, turned around and drove back to Maine, left his car at the end of a road and ventured into the woods. From that moment, he never looked back. Unlike other hermits, Knight wasn't on a journey of self-discovery, looking to find meaning in religion, or any of the other reasons one might leave society. He set up a home base of sorts, survived brutal Maine winters, and remarkably, didn't speak to another human for almost three decades. He even managed to not speak to himself aloud in the years he was alone in the woods.
"I understand I've made an unusual lifestyle choice. But the label 'crazy' bothers me. Annoys me. Because it prevents response. When someone asks if you're crazy, Knight lamented, you can either say yes, which makes you crazy, or you can say no, which makes you sound defensive, as if you fear that you really are crazy. There's no good answer."
The main word that keeps coming to mind is "fascinating". As introverted as I am and as much as I may dream about doing so, it is hard to imagine actually having the courage to leave the world as I know it to venture into a life of complete solitude. The fact that Chris was able to live for decades without coming into contact with other people is nearly unfathomable, considering he was mere miles from civilization. In fact, from his home base, he could occasionally hear voices of people enjoying summer days at the lake.
"That silence intimidates puzzles me. Silence is to me normal, comfortable." Later he added, "I will admit to feeling a little contempt for those who can't keep quiet."
The biggest pitfall regarding Knight's way of life came down to the way he acquired food and supplies, as he was not completely self-reliant. In the dead of night, often during rainstorms, he would sneak into vacant cabins to steal necessary items such as food, batteries, propane tanks, and of course, books. As one can imagine, reading material would be a must-have in complete isolation.  As I listened to the details of Knight's break-ins (over 1000 total), I felt torn about his lifestyle. It was a shame he was able to make others feel insecure in their homes, scare children with the legends of "the hermit", and steal. It's not morally right to take and with the boundless intelligence he harbored, I can't understand why he wasn't able to find a better way of providing for himself.
My very favorite thing about this book were the descriptions of the intense solitude, whether from Knight himself or from other sources detailing the lives of hermits throughout history. It was endlessly interesting to learn how the mind works when one is able to escape the confines of time, money, and others inflictions of society. Intellect seems to be the highest form of currency and boredom didn't exist for Knight.
During one unfortunate night of thieving, Knight was finally caught after his almost thirty-year jaunt from society. He was arrested and kept in jail, and finally sentenced months later. As I mentioned, I was torn regarding his lifestyle. In most ways, I found myself on Chris Knight's side as I listened to the story, with the exception of his thievery. He never bodily harmed a single person, he wasn't exactly a nuisance, and he mostly wanted to live by his own rules. The fact that he was arrested and forced to re-enter society was nearly maddening. It broke my heart to hear of his struggles and I wish there was a way for him to live the kind of life he desired, without being forced to take from other people. I was also completely annoyed by the need of people to label him as "autistic" or as someone with "Asperger's". Why does he need a label to define him? Why can't he simply be counted as different and left alone? People's need to practically strip him of his adulthood, independence, and freedom was devastating. As I listened to his journey, I can't imagine how he still found the strength to keep on living in the world he was forced back to.
"He was confounded by the idea that passing the prime of your life in a cubicle, spending hours a day at a computer, in exchange for money, was considered acceptable, but relaxing in a tent in the woods was disturbed. Observing the trees was indolent; cutting them down was enterprising. What did Knight do for a living? He lived for a living."
I loved listening to this audiobook and would love to revisit this book again in the future in print form. I hope Christopher Knight is able to again find the peace he once enjoyed before his life ends, and I hope people will respect his wishes to be left alone, no matter how intriguing his way of life is.
If you're a lover of nature, interested in the stories of unique human beings, or a hardcore introvert this book will be right up your alley! I can't recommend it enough!