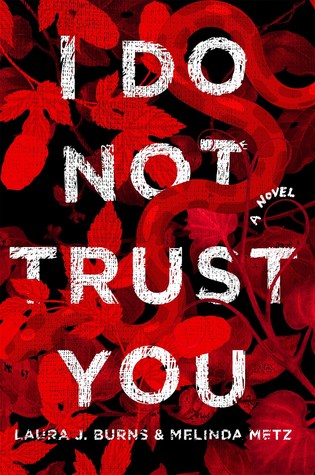 "Memphis is a searingly intelligent and endearingly gutsy female protagonist, and the evolution of her relationship with Ash unravels both artfully and believably… [an] entertaining novel."
—
Kirkus Reviews
"[A] white-knuckle read that pushes envelopes and makes the reader question everything."
—
USA Today's Happily Ever After blog on Sanctuary Bay
"A quickly captivating account of an outsider's new life inside a world of prestige, pleasure, and pain and her struggle to find acceptance and herself and to survive."
—
School Library Journal on Sanctuary Bay
"This mash-up of private-school lit meets mystery novel meets conspiracy theory should keep readers guessing as the horror continues to mount."
—
Booklist on Sanctuary Bay
---
Laura J. Burns and Melinda Metz, authors of Sanctuary Bay and the Edgar-nominated mystery series Wright and Wong, are back with a story that features their signature plot twists and uneasy ever-changing alliances. I DO NOT TRUST YOU (Wednesday Books; September 11, 2018) is a thrilling journey at every turn that asks – what would you do to save the ones you love?
In their latest collaboration, Burns and Metz prove once again the magic that happens when they work together. Going on M's journey will have readers' hearts race with every page. With its dangerous secrets and dark mythology, I DO NOT TRUST YOU is irresistible to any fan of YA thrillers.
About the book:
Memphis "M" Engel is stubborn to a fault, graced with an almost absurd knowledge of long-lost languages and cultures, and a heck of an opponent in a fight. In short: she's awesome.
Ashwin "Ash" Sood is a little too posh for M's tastes, a little too good looking, and has way too many secrets. He desperately wants the ancient map M inherited from her archeologist father, believing it will lead him to a relic with the power to destroy the world. M obviously can't trust him.
Equally desperate to find the relic for reasons of her own, M forms an uneasy partnership with Ash. From the catacombs of Paris, to a sacred forest in Norway, to the ruins of a submerged temple in Egypt, together they crisscross the globe in their search. But through it all, M can never be sure: Is she traveling with a friend or enemy?
About the authors:
LAURA J. BURNS and MELINDA METZ have written many books for teens and middle-grade readers, including Sanctuary Bay, Crave, and Sacrifice, as well as the Edgar-nominated mystery series Wright and Wong. They have also written for the TV shows ROSWELL, 1-800-MISSING, and THE DEAD ZONE. Laura lives in New York and Melinda lives in North Carolina, but really they mostly live on email, where they do most of their work together.
---
---
MY THOUGHTS:
Many thanks to Wednesday Books and Netgalley for the chance to read and review this book.

Unfortunately, I Do Not Trust You completely missed the mark for me as a reader. I think due to the book being marketed to bloggers as a YA Thriller, we were slightly set up for failure from the get-go. Luckily, the book's genre is labeled more accurately on Goodreads, classifying it as YA Fantasy/Mythology. I'm not someone who normally enjoys Fantasy novels, but I thought I'd give this book a chance because the blurb sounded compelling enough. Despite my lack of love for the genre, I do enjoy a good adventure story, and once I was able to clear my mind and read, I was intrigued. The story seemed like an interesting mix of Indiana Jones and National Treasure, with lots of history and mythology added in. I was interested and excited to see how things would play out with a strong female lead taking the reins. Then things slowly started to unravel and all hope was lost in gaining my interest back. It became exhausting to slog through a novel with such potential.
There were many issues with this story, but the main problem, in my opinion, was the lack of depth in the characters. More history was necessary for understanding both the characters' educations and what lead them to the point readers were introduced to them. They felt flat and there were so many missing pieces essential to gaining a better understanding of them as people. As Ash and Memphis joined forces, it felt as if the authors came up with an idea for the next plot point out of thin air and scribbled it down. The characters would get to a place, do a few things, immediately get what they came for without much struggle, and jet off to a new location with every bit of information coming easily to them. Again, we are missing substance! The same process repeated over and over, with random bits of mythology thrown in. It felt as if the authors' over-researched and didn't know how to organize the mountains of information into a cohesive story. Random is truly the best word to describe this perplexing novel.
Another issue was the lack of a realism. Fantasy is one thing, but a teenage girl having in-depth knowledge of numerous forgotten languages and hieroglyphs without the help of books? Come on. I didn't believe this for a second and it really took away from the story as I continued to read. The more clues Memphis quickly pieced together, the more I wanted to roll my eyes. The knowledge she supposedly had would take a normal person decades of study and education to acquire.
Overall, this book was a mess. I think young Fantasy lovers might be able to overlook many of the issues I found and enjoy the story, but my practical mind could not see past the numerous problems. I wish the authors and Wednesday books the best of luck with their release today! If you're a fan of this genre, find the links below to purchase your copy.