One of my dreams is to someday sell the majority of my belongings and live like a hobo. I don't care how crazy it sounds, how stinky and dirty I become, or what anyone thinks because I think it would be the experience of a lifetime. I don't want to simply become a vagrant, however. I want to spend roughly six months of life hiking the Appalachian Trail from Georgia to Maine. That's right, over 2,000 miles of hiking, day in and day out. Since learning about the trail around five years ago, I have become obsessed with learning about it, from reading books to watching YouTube Documentaries on the weekends over the years. I so desperately want to have this experience myself, I sometimes have to ban myself from thinking about the trail because I start to feel resentful about not discovering the possibility of hiking the AT before I had children. I had a perfect time in my life after graduating from high school and as I got married when I could have easily devoted six months to walking. However, I do believe everything in life happens the way it is supposed to, and I probably would not have had the mental fortitude to accomplish such a daunting task ten years ago. I may not have the ability now!
Since my obsession is ongoing, I have been eager to read Bill Bryon's A Walk in the Woods: Rediscovering America on the Appalachian Trail. Finally, the audiobook became available through my trusty Overdrive app and I dove in!
For the most part, I really enjoyed listening to this audiobook. The narration was great, and the book described trail hiking in more depth than many other books or videos I've encountered. I wanted to know everything, from how one's body feels on the trail day by day, to their fears, their encounters with other people and wildlife, and the feelings they deal with as time goes by spent in the woods. I was rewarded with all of these things and to my immense delight, dashes of humor. Cats (Katz??), Bryson's on again – off again hiking partner, was hilarious. I almost wish the whole book could have been told from his perspective. There were points while I was listening that I would have to pause the story to cackle aloud, especially as he threw essential items from his pack for being too heavy. I just could picture him thudding his way through the woods cursing the whole experience.
Bryson's accounts were quite funny too, and I enjoyed his constant sarcasm. I suppose someone who has spent as much time in England as he has would pick up their own sarcastic sense of humor.
The biggest downfall was Bryson's mostly cynical and sometimes condescending viewpoints about hikers, Southerners, and the trail itself. He could be downright rude and he seemed sure his way was the only way. I was also disappointed this wasn't an account of an entire thru-hike, as I hoped it would be. I have never tried to hike more than 2000 miles, so I can't judge his experience. He's done more than I ever have, but I desperately wanted him to have the mindset to finish the trail completely.
I liked how Bryson was able to mix in historical, statistical, and scientific facts regarding the trail into this book. It was well researched and interesting to learn more about the hows and whys of the trail coming into existence. I didn't necessarily agree with all of the scientific "facts" presented or care too much about geology or the descriptions of the ice-ages in this book, but I suppose that's because I'm somewhat cynical myself.
One of the things I was most curious about was the number of deaths on the trail. If I'm considering putting my life in nature's hands in the future, I want to know how likely I am to die doing it. 😉 I think the total number ended up being nine deaths at the time of publication which probably isn't statistically any more than in the town I currently live in. Despite Bryson's attempts to almost scare readers out of hiking the AT, I felt reassured by the numbers along with the small likelihood of being mauled by a black bear.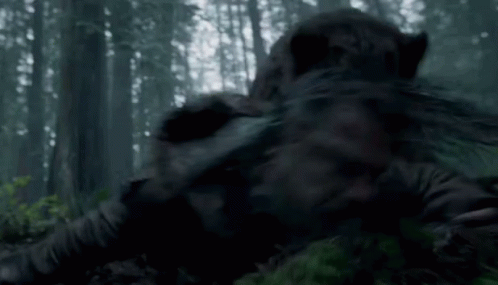 Overall, this was quite informative and a fun book to listen to whether hiking is in your future or not. However, for the predominately negative tone, I decided to give A Walk in the Woods three stars.