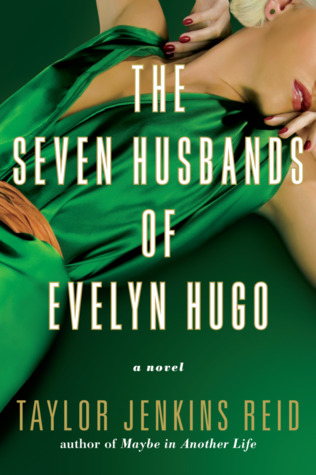 I make it my personal mission to give my honest opinion on the books I read, no matter how difficult it might be. It's hard to write negative reviews. It hurts me every single time, because I know authors pour their hearts and souls into their books. It feels like I'm criticizing someone's child when I talk about the things I didn't like in an author's book. So, even when it feels dirty and wrong, like it will today, I vow to stay true to myself. Bear with me.
I've been in a bad mood all day thinking about how I can word this review without offending everyone and making myself seem like some intolerant jackwagon. Again, bear with me.
In case you haven't noticed already, I wasn't a fan of The Seven Husbands of Evelyn Hugo. I thought this would be an easy five-star read for me. I've been looking forward to reading this book even before its release this summer, so imagine my immense disappointment to feel completely let down.
Before I get too far ahead of myself, allow me to give you a brief synopsis: Evelyn Hugo is a film icon from Hollywood's Golden Era, she's mysterious, and someone everyone wants a piece of. Finally, on the verge of her eighties, she decides to give the world her full story with all of the nitty-gritty details about those seven husbands of hers. Instead of sharing her story with a big-shot journalist, Evelyn chooses Monique Grant, a virtually unknown writer – a mystery in and of itself. As Evelyn recounts her life to Monique, readers are taken back through time to see the consequences of each of Evelyn's choices through the years.
Now I want to feed you the good stuff about this story. I loved experiencing the feel of Old Hollywood through Evelyn's accounts. In light of the Henry Weinstein scandal, this novel can give readers insight into just how difficult it can be to be a woman in the limelight and the experiences these women have to endure to rise to the top. Often, what we see of these powerful and influential celebrity women is what the media wants to us to see, and is not their truth. I loved that Taylor Jenkins Reid was able to remind readers of this fact through her fiction so vividly. What we see is not always what we should believe. It made me want to feel more empathy and compassion for the rich and famous, which was not something I expected to feel through reading this book.
As always, Taylor infuses her characters with life. Sometimes I was so drawn in by the characters, I would try to place who they were in real life, when I would suddenly remember they were fictional. My favorite character from the novel was Harry Cameron. He was one of the only characters who seemed truly good and full of love for others, rather than only love for himself. The moments featuring his character elicited the biggest emotional responses from me while reading.
This brings us to Evelyn. My main problem with this novel was Evelyn. She was a ruthless and utterly selfish woman. I felt as if she had next to no redeeming qualities and I quickly became annoyed with her manner of dealing with people she was supposed to love. She simply used everyone for personal gain and didn't seem to learn enough about the cost of doing so in the end of the novel, in my opinion. By the time Evelyn's third husband's explanation rolled around, I was becoming bored with the story and seeing through all of the suspenseful moments within the plot. The novel became rather repetitive and wasn't exactly what I was hoping for, knowing Taylor Jenkins Reid's storytelling ability.
One of the biggest negatives, from my perspective, was the main plot twist about 25% of the way into the novel. Now, I realize adding a disclaimer would have ruined this particular twist, but I felt caught off guard and ambushed by this fact. I was not expecting this topic to be the main feature of the novel, and honestly would not have read this book if I had known otherwise. I realize how that makes me sound if you have read this story and know what my vague meaning alludes to. However, this happens to be one of the ways I refuse to "conform to the pattern of this world". I felt as if this was a sneaky move by the author to push her social and political beliefs on her unsuspecting readers, and I was not happy from that point forward in my reading. I like to read fiction to avoid having political beliefs forced upon me, to escape the messy reality of these issues and the "Facebook drama" of the world. I already know where I stand and what I believe, so when books feature these issues it is a major downer for me. I chose to look past it for the sake of being able to fully understand this book and review it in my own way. Oftentimes, the reviews of books people don't like can become as important as the excellent reviews. I felt it was important to push through for that sake.
Now to Evelyn's relationship with her "One True Love". This was one of the most terrible excuses of a pairing in all of the books I've read, for more than one reason. Neither character was likeable, neither offered the other anything useful, and neither put the other first as a healthy relationship would constitute. I was constantly annoyed with their interactions, uncomfortable reading the details of their relationship and downright fed up with their inability to communicate effectively. I felt as if this was a relationship to push the agenda of the story, rather than the author attempting to create a beautiful and understandable love to last through the ages.
I found The Seven Husbands of Evelyn Hugo to be quite disappointing, but that doesn't mean everyone else will too. I am the first person I know to give this novel a low rating and suspect most readers will disagree with my opinion. Nonetheless, I would encourage more conservative readers to perhaps research more telling information about this novel if you are considering diving in so as not to be caught off your guard.
Despite my feelings toward this novel and the topics I do not agree with, I will continue to read the works of Taylor Jenkins Reid in the future. There is no question her talents are unparalleled in the Romance and Women's Fiction genres. Her writing is impeccable and she is able to create captivating stories that will push readers to continue reading whether they want to or not. This is but one blip in the pond for me as a reader of her writing.