Thank you to Simon & Schuster along with Megan Miranda for providing an advanced copy to review.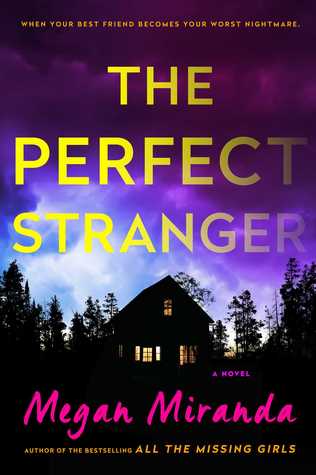 I think I may have been at an advantage reading The Perfect Stranger as my first Megan Miranda book. The reviews for All the Missing Girls are raving, making fans wonder if The Perfect Stranger can live up to the hype. Since I have yet to read her previous works, I have no comparisons to affect my judgment. Ignorance is bliss in this case.
After a mysterious fiasco with her journalism career, Leah is forced to start over in a new place (Western Pennsylvania) with her long-time friend, Emmy, and in a new career as a teacher. When a girl is found by the lake near the girls' house barely hanging onto life, Leah's plans for a slower paced life are put on hold. Her journalistic instincts take hold, and she begins investigating the story. Shortly after, Leah realizes her flighty roommate hasn't been home or seen for a few days and begins to worry she may be the subject of a similar vicious attack.
The Perfect Stranger was the best mystery I have read thus far in 2017. The tale was gripping and had me turning the pages as quickly as I could. My eyes probably resembling those of a person watching a face paced ping-pong match. I felt anxious, even experiencing moments of fear for what Leah was going to stumble upon next.  While I was certain I had the story mostly figured out, it did not slow my need to find the truth within the pages. Instead, I was determined to read faster to see if I was correct.
With the hint of a possible romance within the pages, I was all the more intrigued with the story. A chance love interest adds another great element to an already engrossing novel. I wish this added aspect was pursued a bit further to make the story even more interesting but was nonetheless happy with the addition.
I gave this book 4 hard-earned stars for the amount of suspense and excitement I felt while reading.  I had to knock a star off for the ending not quite living up to my expectations.  It concluded much in the way I expected it to.  Unfortunately, I was hoping for more of a climactic end after such an in-depth mystery.  Despite the story not earning maximum stars from me, it is still going to be classified as my favorite Mystery/Suspense novel of 2017, so far.  Megan Miranda's storytelling is top notch, and I cannot wait to dive into more of her work.