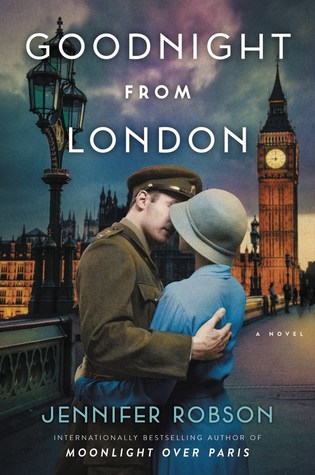 As book lovers, I think we can all agree not all 400 pages in every book we read are created equally. Sometimes I can fly through 400 pages in a day and other times it may take me a couple of weeks. Unfortunately, Goodnight from London was one of the latter. I felt as if I was never going to finish this book. Not because it was bad per se, but because it instead began to feel rather tedious. In the summer of 1940, Ruby Sutton is sent to London to report on the war from first-hand experience for Picture Weekly newsmagazine. Surprised and exhilarated by the opportunity, she sets out to be the honest and empathetic voice Americans and Brits alike need to hear. When the Blitz stretches out for months, night after night, Ruby finds herself in situations she never could have imagined. Remarkably, the dangers do nothing to make Ruby regret her decision to venture overseas. Instead, she manages to find home and family in unlikely places.
I love reading WWII Historical Fiction and I'm absolutely enamored by London, as many of you already know. However, this book somehow missed the mark for me. I can't quite put my finger on what was missing, but it may be a mixture of a few things. I hate to say this story didn't have heart, because there were some endearing and heartbreaking moments within these pages. Though, I didn't feel them as much as I would have expected from a WWII period novel. It was such a devastating time in history, so while I'm reading, I truly want to experience that. I can't say exactly what kept me feeling detached from this story, except for maybe the span of years and the novel covers. Instead of covering just a portion of the war, Goodnight from London spans the entire war in less than 400 pages. This fact possibly made the novel seem jumpy, instead of allowing full immersion in the events at hand. That's five years covered in less than 100 pages each, which is a tough feat for any author.
I also hoped for a little more life from the characters. That's not to say they were poorly written, but rather lacking some of the personal touches or quirks that should have made them stand out on the pages. I didn't feel particularly drawn to any one of the characters, which also causes a gap in emotional attachment between the reader and the story. This was not as much of a romantic story as I expected based on the cover (I know, I shouldn't judge the book by the cover). In fact, the romance was only a minor addition to the plot, in my opinion. I wished there had been a bit more love and less mystery with Bennett's character overall.
One of the most impressive things about this novel was the research the author put in, allowing me to learn a few things I did not know previously. However, the way the information was presented felt a tad clunky at times, giving the story a Nonfiction feel.
Overall, I'd probably have to give this novel 2.5 stars rounding up to 3, because I simply expected more. I wasn't excited or anxious to find out more as I was reading, but was ready to be finished as to move on to more captivating stories. I hate to feel this way about this book, especially since the last couple books I have read felt this way for me. I'm in a bit of a slump as a result but hope to hop out of it soon with The Fortunate Ones by R.S. Grey. Be on the lookout for that review coming as soon as I have finished reading!