You know when you finish a book and you immediately want to tell everyone you have ever known to read it? Yeah? That JUST happened to me.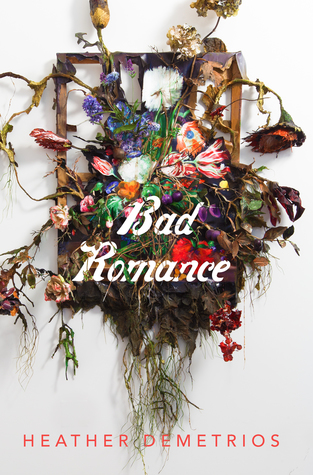 First, I can't stop singing Lady Gaga's,
"Rah rah ah-ah-ah!

Ro mah ro-mah-mah" and I'm so happy Heather Demetrios paid homage to Mother Monster with her book. The song and title work so well with the story. I know Gaga would be proud.
You should know, I have avoided reviews of this book like the plague, even from my favorite spoiler-free reviewers. I didn't want to have the slightest inkling about the plot, although it wasn't necessary because the title gives readers enough of a clue. However, I'm still glad I went in blind to get the full effect of the story.
So, you ask, "Why on Earth would I want to read a story about a bad romance?" Ladies (and Gents), it's not about want, but why you NEED to read this book.
After reading, the first thought that came to my mind and what I initially wrote on Goodreads was: "This needs to be required reading for high school girls." At this young adult age, as women, we are most vulnerable to not understanding healthy love – especially if our parents have not modeled proper relationships for us. It's easy to fall into the trap of a manipulative boyfriend. It's easy to think your relationship is the end all, be all. It's when these feelings are new and fresh and are magnified by our inexperience that we can become victimized. Everything feels better when you're 17.
On the flip side, everything can feel worse too.
"Without you around, I can finally see all the ways you'd kept my heart shackled to yours."
While I've never been in a romantic relationship as toxic as the one represented, I have felt the manipulation of a boyfriend, and like Grace in Bad Romance, I have felt the manipulation of my parents. Nothing can make a person question their sanity like being in a relationship with a narcissistic manipulator. I honestly felt as if I could have written several of the paragraphs within the book. Heather Demetrios saves her readers the trouble of the experience by allowing us to walk Grace's shoes – Grace's excruciatingly uncomfortable shoes. You will feel all the things – happiness, contentment, fury, sadness, anxiousness, and then some.
"It's hard to write off your own flesh and blood, even when they take a jackhammer to your heart."
I encourage women of all ages to read this book because awareness is prevention. Heed the advice rather than letting regret cloud your future. It doesn't matter if someone is 14 or 45, this realistically fictional tale could be the wake-up call readers need.
The only part of this story that didn't quite satisfy was the ending, which made me give this novel 4 stars. I felt as if it was slightly rushed and without giving anything away, I'll have to suffice to say I wasn't entirely convinced of Grace's final situation. I needed just a little more. Despite the ending, however, Bad Romance is unquestionably worth reading! It is one of the most gut-wrenching books I've ever experienced and the topics at hand are some of the most important to me as a woman, mother, and friend. Please be encouraged by this review to pick up Bad Romance ASAP!