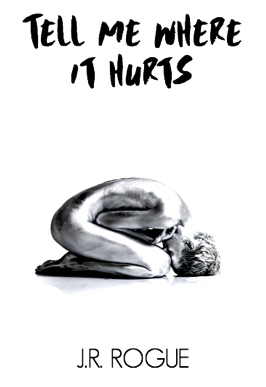 Let me tell you where it hurts, it hurts within the pages of this short book of poetry.  I've never rushed to write a review as quickly as I needed to with this book.  It begged to be written while the emotions were still fresh.  JR Rogue should be proud of Tell Me Where it Hurts. From the moment of reading her dedication, I knew I was going to love this book: "For the Caged Birds.  If I can sing, so can you."  It evokes emotions I had buried and most times would rather forget. I, too, was once a caged bird. I've never had tears in my eyes reading poetry before, perhaps because some of these words hit me on such a personal level.  There is often so much unnecessary pain in childhood, even more, if the child's innocence is not nurtured. My heart hurt reading these poems.  It hurt for the struggles I've been through, but mostly, it hurt for the author.  Poems with this much raw sadness and heartbreak can only be written from personal experience.  You have to know pain to write pain. For that, I am saddened.
I think
I've spent too many years
playing Russian Roulette
with my body in a world
already holding cold steel
to my temple.
While the title tells the reader what they're getting, what is left out is the healing that can be brought through this book.  There's something to be said about being vulnerable and sharing our hurts.  The world tells us we have to be happy all the time, to slap on a smile and act like everything is fine, even when it is not.  When it doesn't work, there's medication to fix your problem.  What if it was acceptable to share sadness?  By sharing, we are lifting the burden of pretending.  It's exhausting to pretend everything is perfect, it often makes the pain worse.  It's ok to not be ok sometimes.  When Jen Rogue shares her experiences, she is sharing comradery.  I dare to say, this little book could save lives.  It is exponentially more than a simple book of poems. It shows victims of abuse they are not alone, no matter what kind you have suffered, or from whose hand.  This book needs to be read, shared, and given to women to help their hearts heal.
Thank you, Jen, for sharing the deepest parts of yourself for the well-being of others.  You are a brave woman.  I will forever hold your words close to my heart.  I thought Rouge couldn't be beaten, but I should have known better.
My favorite poems in this collection include:
Have You Seen this Person?
Lies Liars Tell
Wet Pavement
Embalmed Decay
Stepford
Ribcaged Confessions
The Gravedigger
Girl Crush(ed)
Risk & Roulette
Do yourself a favor and snatch this book up immediately!