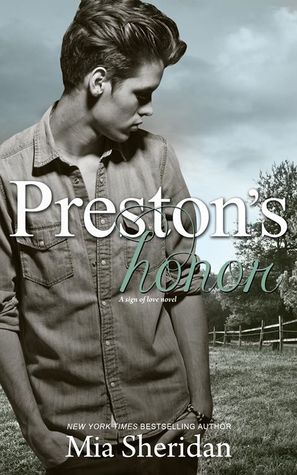 Mia Sheridan can always be counted on to craft beautiful, intense love stories, and she does not disappoint with Preston's Honor.  Out of the wonderful 17 books I've read in 2017 thus far, Preston's Honor is my favorite.  I was drawn in from the first chapter, immediately making it a book I didn't want to put down.  The times I had to do boring adult-y things, I was reliving every word of this story and dying to know what was going to come next. For me, Preston's Honor is up there with Archer's Voice as one of Mia's greatest works, something not to be taken lightly.
Going in, I didn't know a single detail about this story except for the Gemini connection as it is A Sign of Love novel, which made me suspect the story would feature twins. I was a little nervous there may be a love triangle involved, but my fears were unfounded.  I know Mia writes some of the most alluring novels I have ever read, so it was an easy decision to reach with grabby hands for her newest book.
One of the things that made this book so exemplary to me was being able to relate so personally to Annalia.  Her character came to life for me.  I felt so drawn to her, devastated for her, and proud of her at times.  The heart-breaks and desolation Lia felt throughout the story were described so vividly I felt as if I was there, feeling that pain, wanting to comfort her.  I despaired with her and shed empathetic tears for her through much of the novel.
"As it turned out, financial strife   even financial desperation    was much easier and more pleasant than emotional despair."
The flashbacks leading up to the present time, then merging together were one of my favorite aspects of reading.  I love a good backstory, as it leads to a deeper connection for me with the characters.  I like to know the details that made them the "person" they are and to be able to see their growth in the present and future.  Another facet of this story I found surprisingly touching was Lia's Mexican heritage and the grief her mother faced as an immigrant.  I enjoyed how Mia was able to weave this into the story so effortlessly while being able to teach readers an important lesson in the process   simply, we are all human no matter where we come from.  I love that readers are able to get a look into two social classes melding together, to show how we really are the same deep down, despite the actions of some of the crappier characters (i.e. Alicia and Mrs. Sawyer) in the book.
Just like the last time I read a Mia Sheridan novel, I want to pick up everything she has ever written and completely binge on it.  She awakens emotions in me that have been dormant for years, and makes me cry over things I would never expect to freaking sob over.
---
SYNOPSIS:
There were two brothers—identical twins—and though I loved them both, my soul belonged to only one.
Annalia Del Valle has loved Preston Sawyer all her life. The daughter of an impoverished migrant farmworker, she grew up as an outcast in what was no more than a tiny, cooped up shack in California's Central Valley. But her heart found freedom in the land, in the wide-open spaces of Sawyer Farm, and in the boys who were her only friends.
Preston has yearned for Annalia since he was a boy. But a sense of honor kept him from pursuing her until he's unable to hold back any longer and their worlds—and bodies—collide one hot summer night. A night that sets off a chain of events that will alter their lives forever.
Now Annalia is back in town after disappearing without a trace for six long months. Determined to reclaim her heart, her life, and the baby she left behind—the son who was created in a moment of lust and love and pent-up yearning.
Preston has survived grief, a ravaging drought, and the despair of heartache, but he's not sure he can survive Annalia again. And he might be unwilling to try. Will pride and bitterness keep him from the one thing he's always longed for?
How do you heal what is irreparably broken? How do you forgive that which is unforgivable? How do you discover that real honor comes not from circumstance, but from the place deep in our hearts where truth resides? And how do you move beyond the wounds of the past to discover that some loves are as solid as the ground beneath your feet, and as enduring as the earth itself?
THIS IS A STAND-ALONE SIGN OF LOVE NOVEL, INSPIRED BY GEMINI. New Adult Contemporary Romance: Due to strong language and sexual content, this book is not intended for readers under the age of 18. 
---